How do you spend the first five minutes of your day? There is no better time than the morning to ground yourself and prepare your body and mind to set the tone for the day ahead. And since we only have about 25,000 acres in our adult lives, it's time for them to count. In our Wake Up Call series, we take a look at the morning routines of people we admire to inspire our own AM rituals and start the day on the right note. Next up is the founder of Kosas 'founder, Sheena Yaitanes' morning routine.
1 of 10
There's just something to it Sheena Yaitanes. Yes, you know her as the founder of the inimitable (and incredibly cool) Kosa's makeup brand, but her beauty is so much more than skin-deep. After graduation Life sciences in college, she jumped to business school, studied art (Training with a painter in LA), cooked at MasterChef and even worked as an actress before launching one of the first clean makeup brands from her LA home (which still serves as the Kosas headquarters).
Yaitanes is the cool girl – smart, beautiful and nice – but with an outstretched hand that pulls you onto the dance floor and encourages you to join the party. These Desire that all people feel their best, most comfortable, and most liberated also enters the Kosas brand DNA. She cares about the community as much as she cares about her formulas. In fact, the two go hand in hand, which explains their (very) devoted fan base – myself included!
Of course, you can imagine our excitement as she agreed to share her morning routine with us. When she's not conjuring up colors or formulating skin care products, Yaitanes is deep in a book, improving her yoga practice or playing with her daughter – all the things that drive her Soul. Read on to learn more about this inspirational founder's morning routine and about it You haven't done it yet. I highly recommend diving into her podcast conversation with beauty icon Bobbi Brown on Beyond the Beauty for a dive into Yaitane's incredible story from her garage to global domination.
2 of 10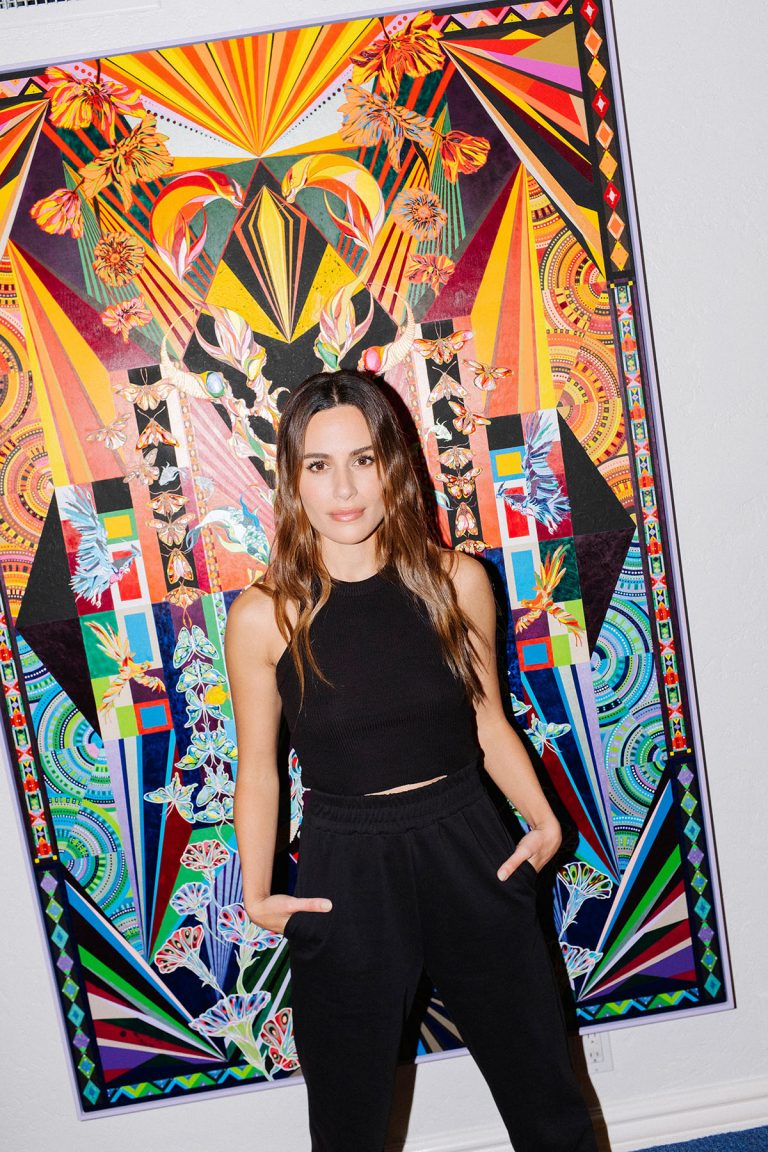 On a normal day…
It starts with coffee and ends with a family dinner. That's all I can guarantee The rest is different every day but involves a lot of zoom.
When you wake up …
I'm usually up at 7 a.m. I dream of about eight hours but have had less sleep since Covid.
3 of 10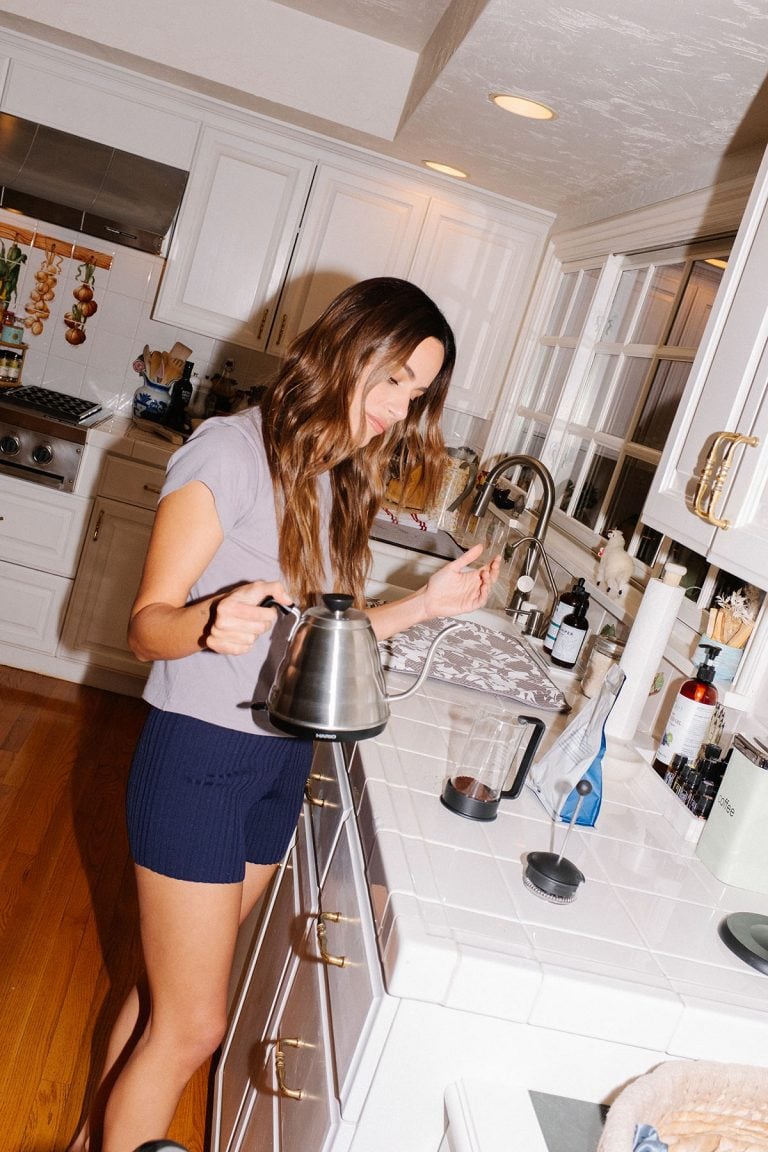 The first thing she does when she wakes up …
Check my phone even though I know you shouldn't.
On your preparatory routine …
Pretty much the same every morning. Open the curtains, lemon water, celery juice and a cup of coffee. Showering is the best part and where I do my best thinking.
4 of 10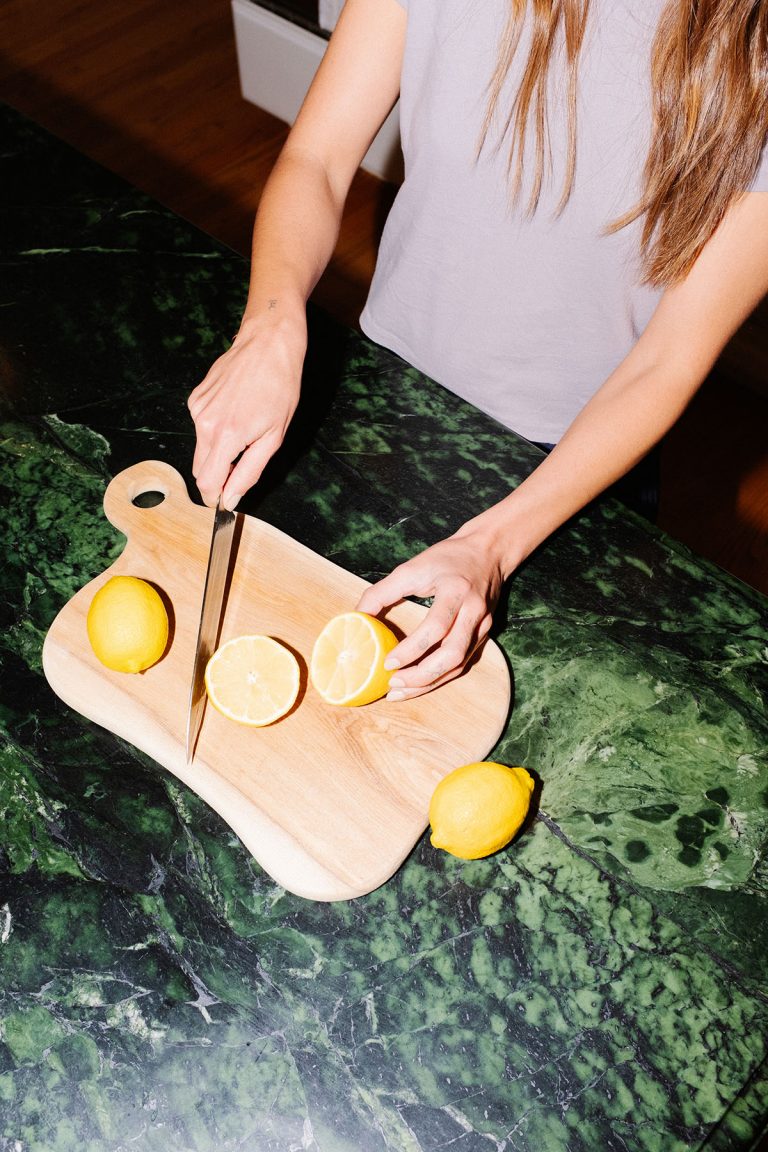 How her morning routine in quarantine has changed …
I am really rooted in my routines and rituals. I still start my day with a cup of coffee and some quiet time before I take about 20 minutes to get ready and then I just do whatever the calendar says. I try to focus on fulfilling the expectations of myself more easily.
What she eats for breakfast …
A cup of coffee with hemp milk and gluten-free muesli.
5 out of 10
In their morning media rituals …
Flip through Instagram and email for quick updates on life and work. I'm also newly addicted to clubhouse so spend time every morning navigating the 'rooms'.
On her favorite books …
Care of the soul by Thomas Moore.
On what she always has on her bedside table …
Water and my cell phone.
6 of 10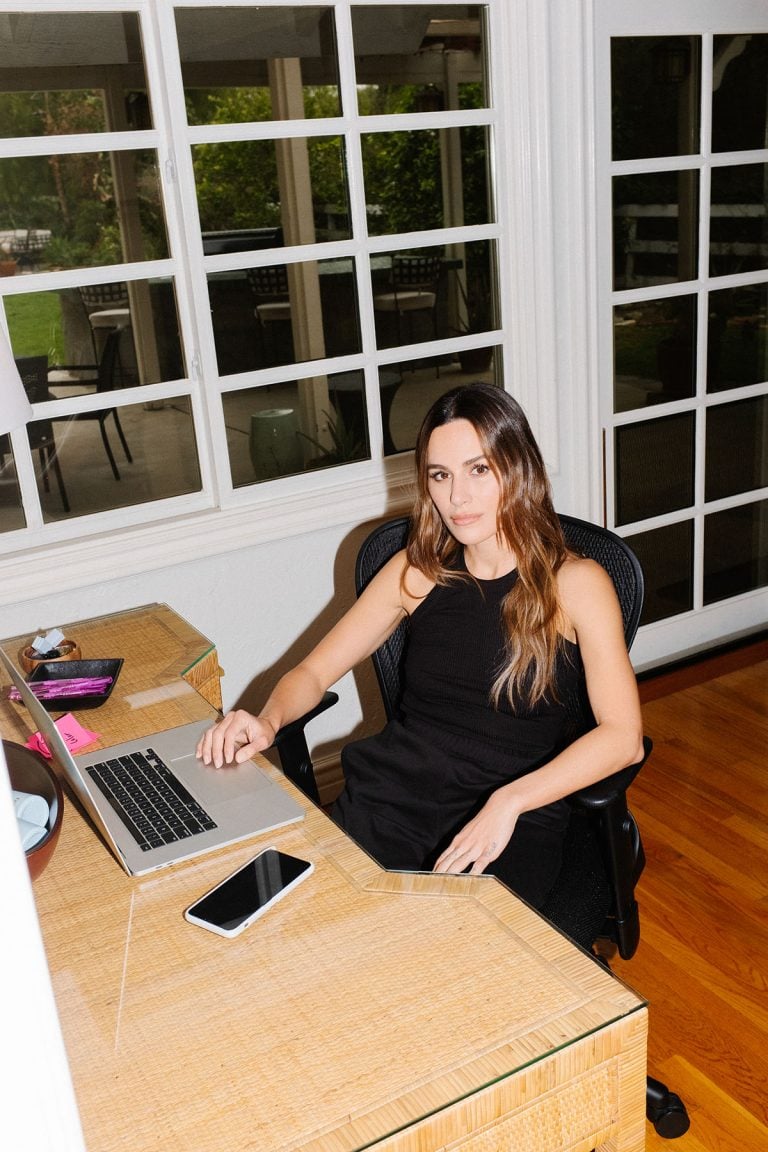 On her favorite soundtrack …
Silence.
On her morning workout routine …
Yoga is my first love. I practice vinyasa twice a week. A few years ago I added harder weight training to the mix that I currently do from home twice a week. I'm not a big fan of group fitness.
7 of 10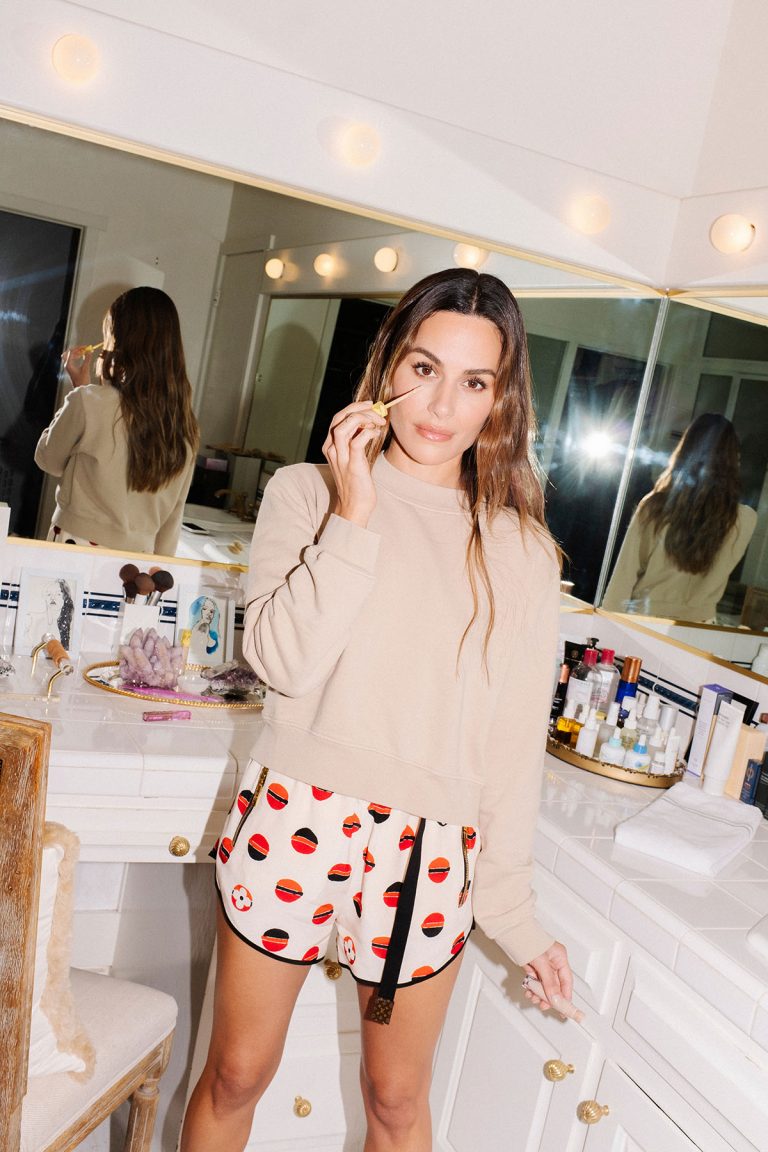 On your morning beauty routine from start to finish….
I keep it really simple in the morning – shower, hair, makeup, and clothes in less than 20 minutes. I keep skin care minimal in two to three steps. Clean with Holifrog, spray with Youth To The People and moisten with Circumference. My makeup is pretty minimal from day to day; fresh skin, strong brows and a neutral lip.
My contact points are currently Revealer concealer and Cloud Set Baked Setting + Smoothing Powder for a slight blurring effect and Wet Lip Oil Gloss in Jellyfish, this is my best zoom hack. I wash my hair every three or four days and fix everything with an iron to straighten and curl it.
8 of 10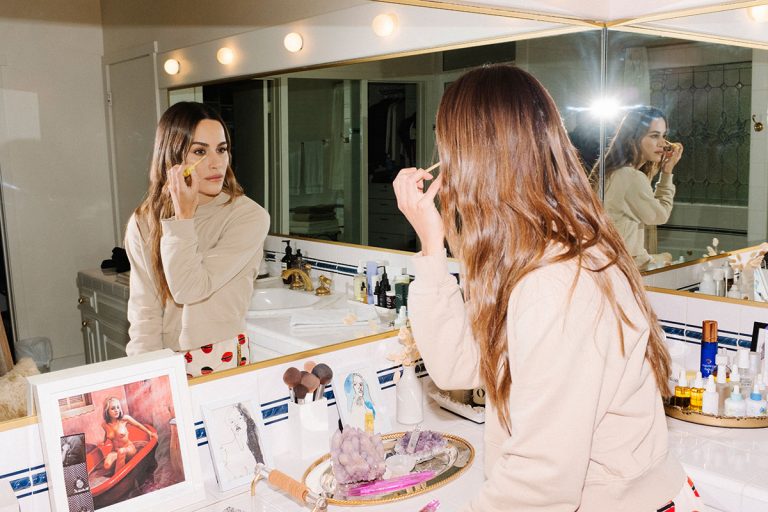 On her daily uniform …
Good sweatpants with a hood. This is not a quarantine thing for me. I live and breathe comfort.
If she had an extra hour every morning …
I had read.
9 of 10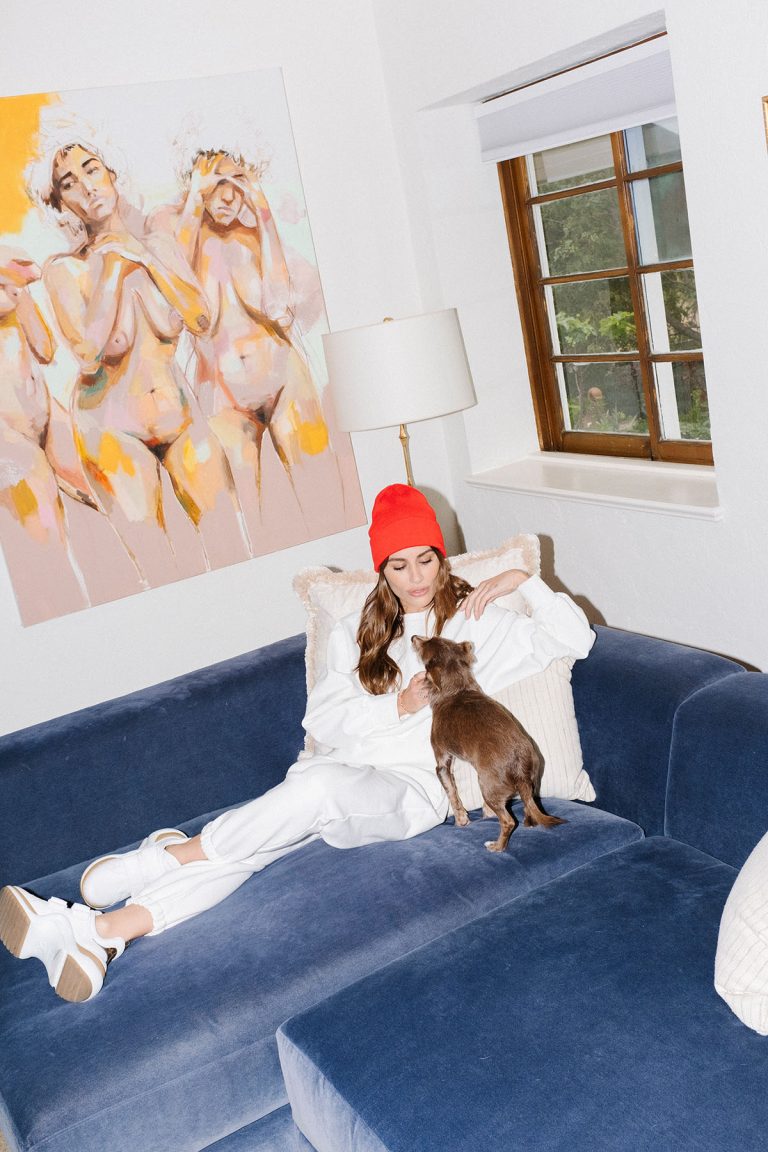 How she leads a more present / mindful / joyful life …
I weave self care through every part of my life. For my body through exercise, for my spirit through books, for my heart through family time, and for my spirit through friendship.
On their formula for success …
That would be impossible. It's too much of a tapestry.
10 of 10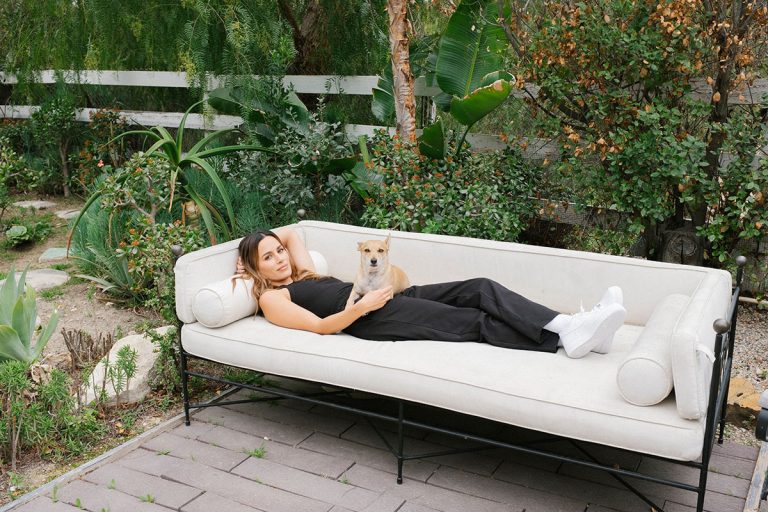 Set finisher:
I never leave the house without … Kosasport LipFuel
If the day had more hours, I would … spend it with my daughter
Healthiest morning habit … Celery juice
Worst morning habit … scroll through my phone
One thing I want to be known for is … Helping women feel supported in their makeup routines
The three qualities you need to be successful in life are … Love. Will. Curiosity.
Bath or shower? And what is your favorite shower / bath product? Shower. I always experiment.