I love a summer salad. Also, I love a salad that doesn't feel like a salad. Enter: this Mexican chopped salad with a vegan twist. Don't get me wrong, I think green salads have their place and I love a good Caesar salad every day. But more and more I made salads that weren't filled with spinach or kale. I'll save the greens for my morning smoothie.
Especially around the corner on warm summer days, the season calls for textures and great flavors, which I prefer in a chopped salad situation. Lots of delicious ingredients and seasonal flavors all come together in a confetti-like mix that makes eating your veggies fun.
With the return of summer backgrounds, picnics in the park, and quick lunches that I can eat straight out of the mixing bowl, I decided to draw on a few familiar flavors that were also seasonal with Cinco de Mayo and put together a salad that can I repeat all summer.
1 of 4
For me, the essence of a summer salad is a light and bright taste that plays off each other, and nothing says more about summer than the bursting of tomatoes and sweetcorn. The key here is to use corn on the cob and get the kernels nice and charred on the grill or over the stove. I like the slightly smoky taste that counteracts the sweetness of the grains and keeps them from making the salad taste too sweet too. The same applies to the Poblano.
I actually learned how to roast poblano peppers a few years ago and now I love roasting a few at a time to use in any salad or egg dish I might make all week. I fry them by placing the peppers on a tray with a little olive oil. Fry until the skin has bubbles, then, while hot, place them in a bowl and cover the bowl with a plate. Allowing the pepper to steam shortly after it comes out of the oven (you can also char it on the grill and use the same steaming method) will make it easier to peel the pepper's thin, papery skin, which is not really pleasant to eat. You peel the skin, cut and sow the pepper and you're done. I love the taste of poblano peppers and think they add something special to the salad that just a jalapeno can't do on its own.
2 of 4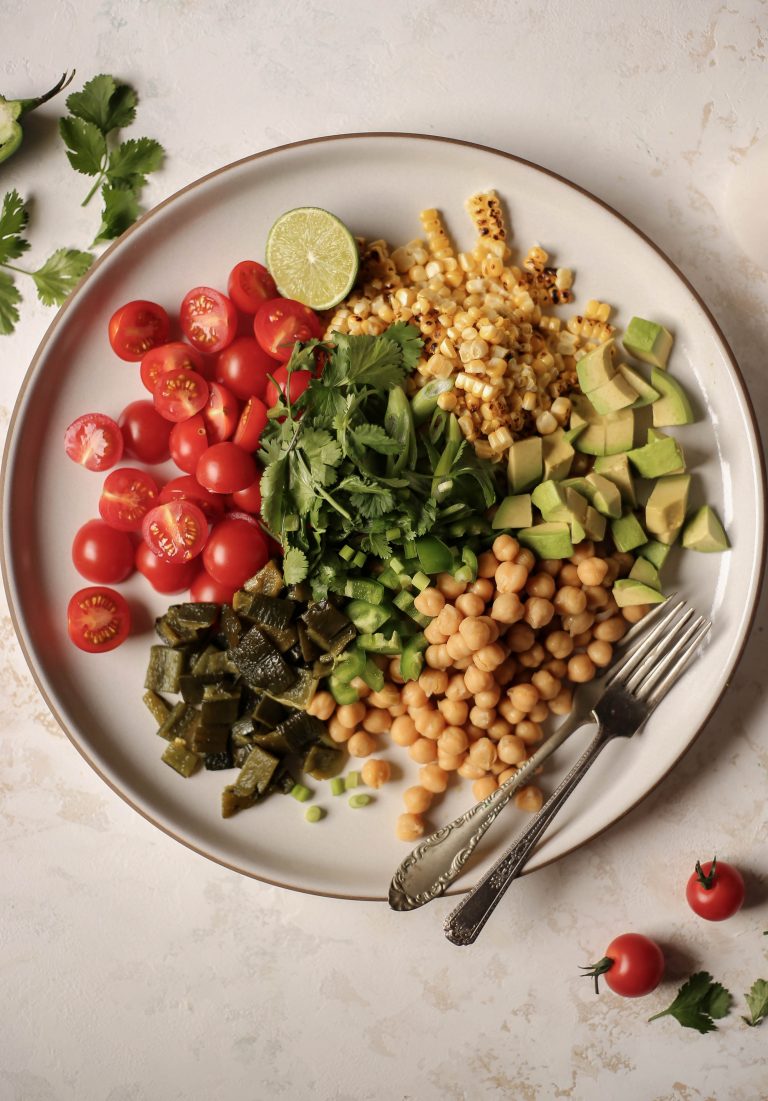 To add a little warmth to the salad, I opted for chickpeas over grain (did I mention that this salad is vegan and gluten-free?). They're the perfect blank canvas for all the flavors you want and make any herbal recipe feel a little plump. Load the salad with a ton of herbs – I used coriander and green onions – and you're ready to get dressed.
So let's talk about this vinaigrette. It's delicious and I've probably only eaten half of it straight out of my mini blender. I wanted the vinaigrette to have a tiny bite that cuts through the sweetness of the corn and tomato and also the rich fatness of the avocado, and it did just that.
I never measure dressings while mixing and lose flavor when I adjust. So use the ingredients listed below as a starting point and customize them to suit your own tastes! A few tips I've learned along the way are adding a tiny pinch of honey or sweetener to balance out the saltiness, a dash of vinegar to balance out the richness of the oil, and lots of herbs to really enhance the flavor. It's about balancing salty + sweet + sour + fat when it comes to dressings. So play with proportions to find your perfect mix.
3 of 4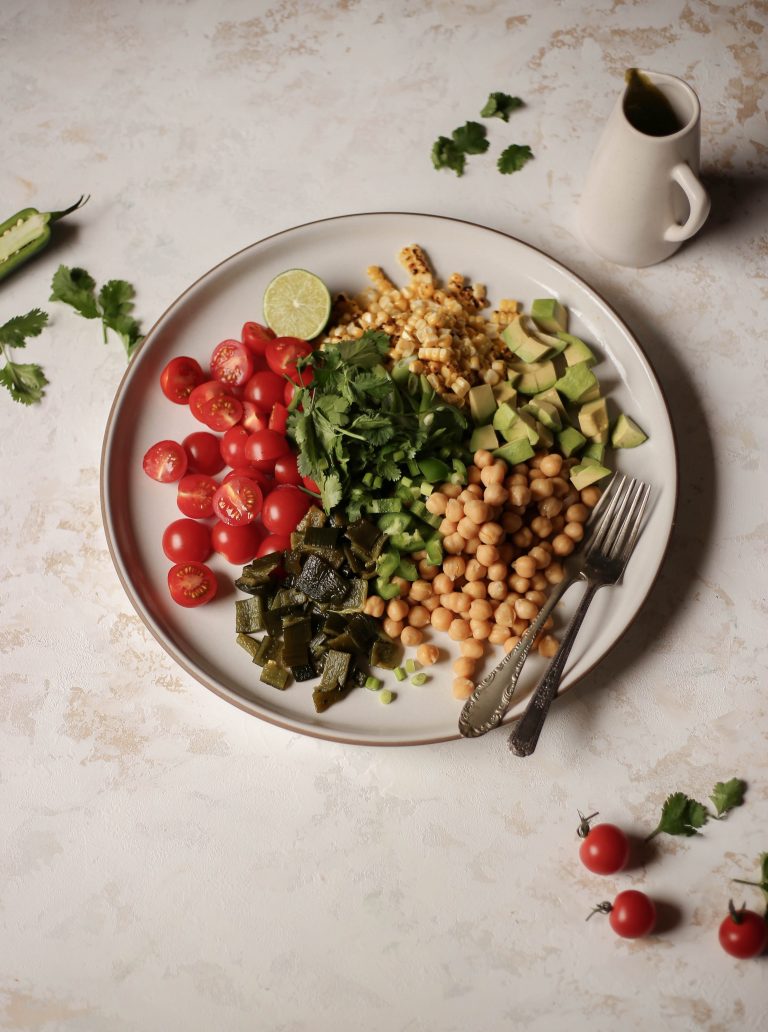 With a little preparation, this vegan Cinco de Mayo recipe comes together very quickly and is perfect for having a pre-made lunch in the fridge during the week (or just a day, my brother finished the whole batch for dinner that evening, when I did this) or works well for outdoor barbecues that appear on the calendar. Happy summer!
4 of 4