TIDAL is now majority-owned by Jack Dorsey's Square after a deal was reportedly closed between Dorsey and Shawn 'Jay-Z' Carter on Friday April 30th.
The acquisition was for more money than expected, according to TMZ, as Square paid $ 350 million to purchase an 80 percent stake in TIDAL.
That figure was $ 53 million higher than the number the two parties announced in March ($ 297 million) when they said they had reached a definitive agreement for Square to acquire the majority stake.
UPDATE: A Square spokesperson tells MBW that TMZ's report is inaccurate and that the final consideration (price) of the deal was $ 302 million.
At the time, the two parties said that after Square was acquired, TIDAL's artist co-owners would be the remaining stakeholders.
These co-owners include Alicia Keys, Arcade Fire, Beyoncé, Calvin Harris, Chris Martin, Daft Punk, Damian Marley, J. Cole, Jack White, Jason Aldean, Kanye West, Lil Wayne, Madonna and Nicki Minaj, Rihanna, TI and Usher .
Both Jay-Z and Desiree Perez, CEO of Roc Nation, are expected to remain on the TIDAL board of directors following the purchase of Square, TMZ reports.
For Jay-Z, a sale of 350 million US dollars is a multiple of seven times the 50 million euros (approx. 56 million US dollars) he paid in 2015 for the takeover of TIDAL – at the time associated with the Scandinavian service WimP .
However, it's not far from half of the company's $ 600 million valuation achieved by TIDAL when Telco Sprint acquired a 33% stake in the music platform for $ 200 million in 2017.
Jay-Z initially acquired TIDAL through the Panther Bidco vehicle project, whose latest financial reports for TIDAL show that the platform generated $ 166.9 million in calendar year 2019, an increase of 26.4% over the previous year.
The platform posted an operating loss of $ 55.3 million in 2019.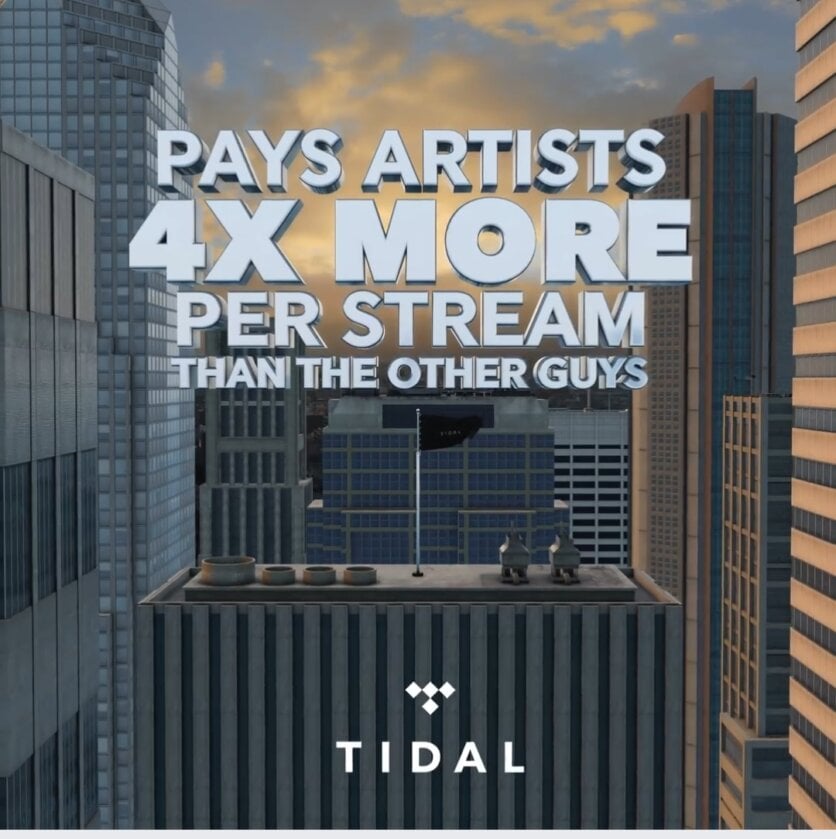 TIDAL's new online ad claims it pays 4 times more per stream than the others.
Square's acquisition of TIDAL comes as the streaming music platform launches an interesting online campaign aimed at getting consumers to sign up for the 30-day trial offer.
Not only does the ad show TIDAL's high definition audio capabilities, it also makes the bold claim – as seen on social media this week – that TIDAL "pays artists 4 times more per stream than the rest".
It's a claim worth checking out.
TIDAL certainly pays out on average more per stream than many of its competitors: For example, data released by The Trichordist last year suggests that TIDAL pays $ 0.00876 per stream, while Spotify is well below $ 0.00348.
One reason for this is that TIDAL doesn't have a free tier – which means that any non-Triallist who uses their service pays for the privilege.
TIDAL's Average Revenue Per User (ARPU) number is also increasing due to the TIDAL Hi-Fi tier, which costs twice the standard monthly subscription price ($ 19.99 versus $ 9.99).
However, as indicated in the TIDAL ad, per-stream rates should always be used with caution.
As MBW explained in our analysis of Apple Music's recent claims, streaming services do not charge or pay royalties per stream.
Instead, they pay out a percentage of their total sales, which is then split critically based on the popularity of an individual artist / label on their platform.
Low engagement services (i.e. users who don't play a lot of music) therefore have a natural advantage over high engagement services (i.e. users who play a lot of music) when it comes to calculating their per-stream rate.
In other words, if music fans stream more on a service in a given month, the payout per stream will decrease. If music fans stream less in a given month, the rate per stream goes up.Music business worldwide