Do you want to make friends? Say the word pizza and people will just show up.
Better still, invite others to join the fun of pizza making from start to finish, and before you know it, you've turned strangers into best friends enjoying a perfect cake together. Okay, so maybe it doesn't work that way, but liking pizza is one thing most of us can agree on.
I also firmly believe that a good flatbread is best enjoyed with a crew. We've all had these nights eating pizza by ourselves and it's just not the same – I would almost always prefer to share my extra slices with a friend rather than leave them in the fridge.
When I start to see the light at the end of the quarantine tunnel, I dream of my next flatbread night with friends.
When it comes to get-togethers, there's nothing quite like getting together to roll out some dough, pick up your favorite seasonal ingredients and take turns sampling each other's creations.
The first thing on my menu is this glazed pear flatbread. With soft pears, roasted walnuts, ham, goat cheese and peppery rocket, this flatbread is a savory, sweet treat that will win over close friends and keep them coming back again and again.
1 of 5
The recipe inspiration
My parents just bought a pizza oven and we've been experimenting with new recipes all winter. Let me just say these things cook quickly and we've come a long way. We went from accidentally burning our pepperoni to mastering margheritas to perfectly crunchy flatbread made with seasonal ingredients.
As soon as we had the classics under our belt and couldn't see another glass of red sauce, we got smart and tested new combinations of ingredients. After exchanging tons of laughs and slices, we found that most of our favorites used seasonal ingredients, had both salty and sweet sensations, and the toppings balanced the softness with a little crunch.
Basically, we've confirmed our long-standing belief that pizzas are the perfect canvases for all of your favorite things to exist at the same time. Enter: this pear flatbread with walnuts, goat cheese, ham and arugula. 2 of 5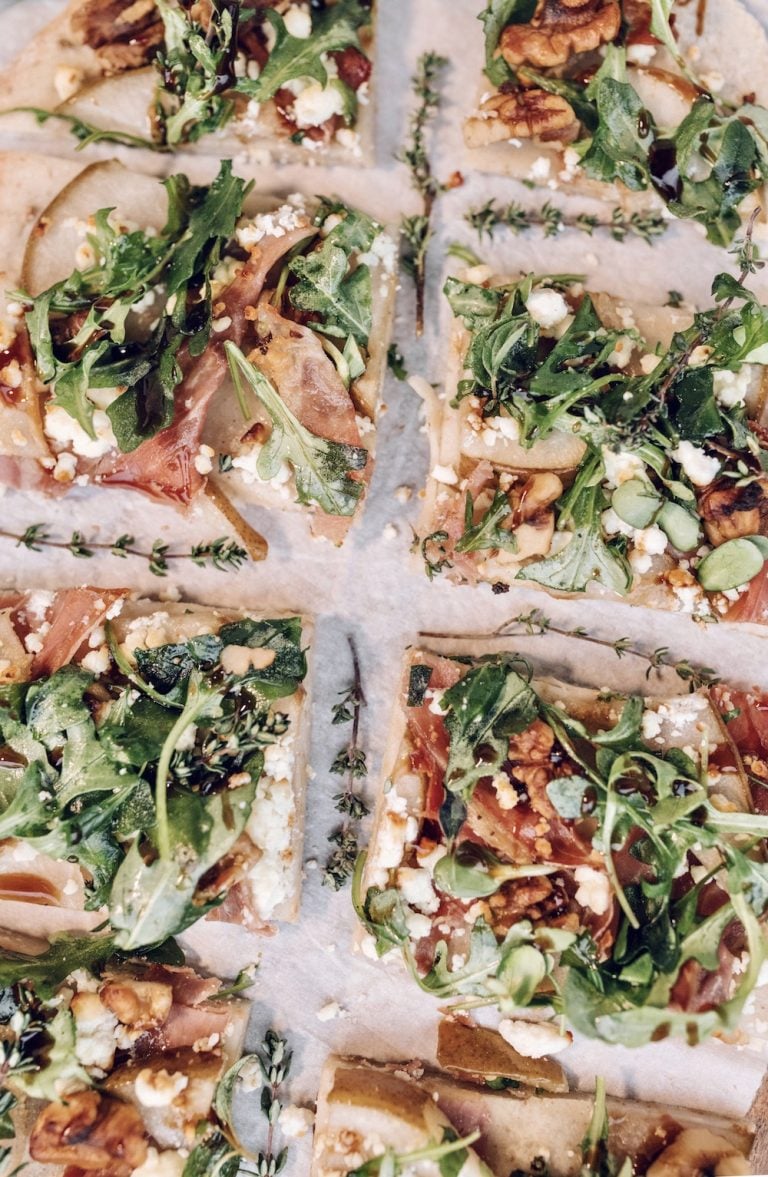 Choose the crust
Hot shot here, but I've always been a thin crust girl. The thick crust has its moments, but the thin crust has something that really makes the toppings on this pear flatbread shine. And who doesn't love those crispy, browned edges?
This recipe is also without the sauce, which is what I prefer with most flatbreads not only for taste but also for weight so that your slices don't collapse and fall apart when you try to eat them. Also, I admit that I've used the words "pizza" and "flatbread" interchangeably here, and I understand that for many of you these can be two very different things. While the definition of "flatbread" is a hot debate, I associate the flatbreads of my past with thin crust, little to no sauce, and ready-to-use ingredients. The pros out there could prove me wrong, but hey, flatbread only sounds fancy. It's pear flatbread.
3 of 5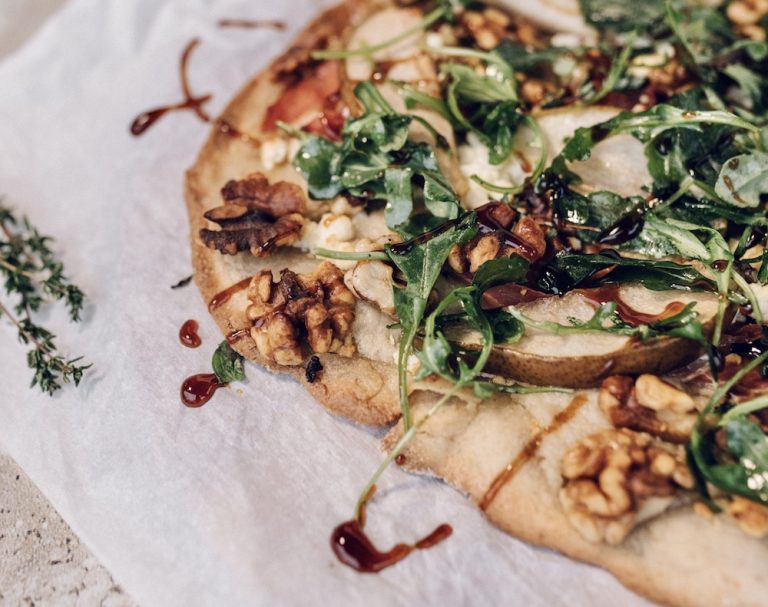 Make gluten free
I've been gluten free for years and it honestly hasn't stopped me from enjoying most of my favorite foods. We are fortunate to live in a time when there is a pizza crust for everyone and there are plenty of gluten-free options in almost every supermarket these days.
If you're a dough lover yourself then I'll make everything from scratch, but there's nothing wrong with leaving it to the professionals either. While there are some great pre-made crusts that do the trick, rolling out the actual dough yourself is something that makes a homemade pizza especially fun.
I've been obsessed with this very healthy pizza dough lately. It's gluten-free and feels almost identical to the original. It has the best taste and texture of any other crust I've tried.
4 of 5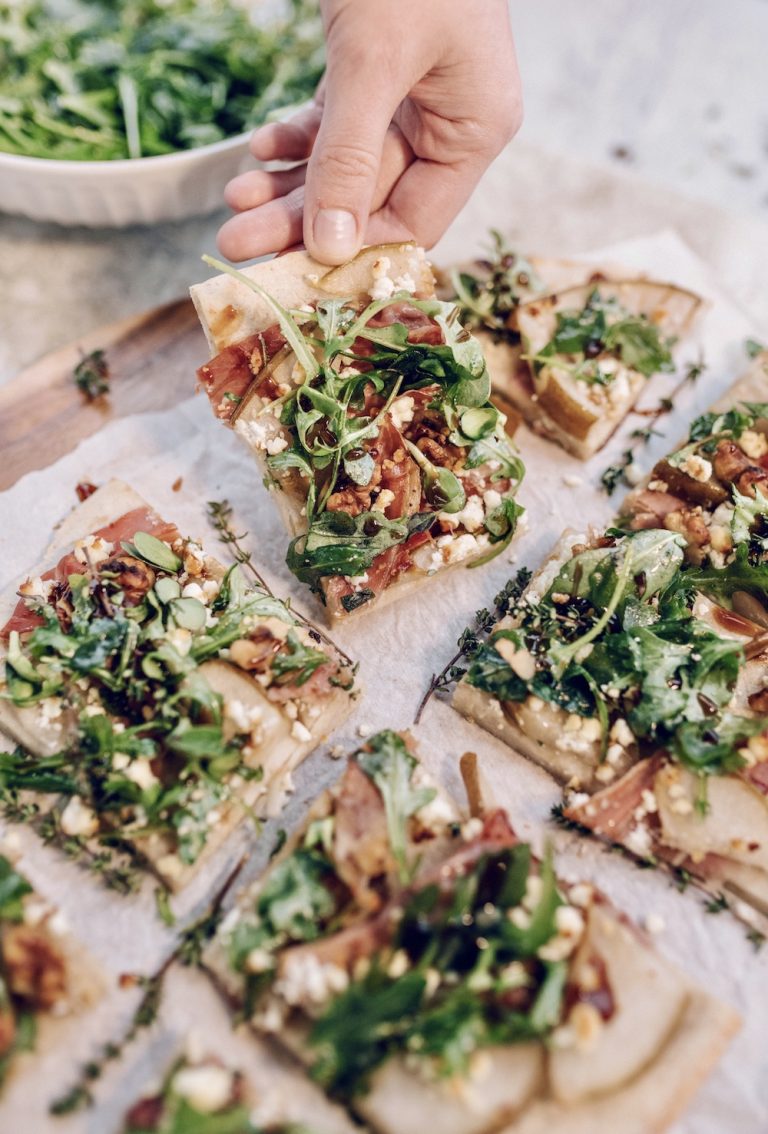 The ingredients
Pears are the sweets of winter. Whenever the pear season rolls around I love adding them to my salads, desserts and of course my pizzas. This pear flatbread requires you to cook the cut fruit a bit beforehand and then add some balsamic glaze to get that soft, caramelized sweetness. When you pair it with goat cheese, you have a match made in heaven. The goat cheese gives this flatbread a spicy, soft taste that lingers in the mouth after every bite.
The walnuts give this cake a bit of warmth and crispness, which usually fill me up after just a few slices. Ham is a must for most flatbreads, and the salty-sweet combination with balsamic glaze is especially tasty when it's perfectly baked. After all, pizza doesn't mean you can't get your greens, and the tossed arugula at the end rounds off the perfect cake.
5 of 5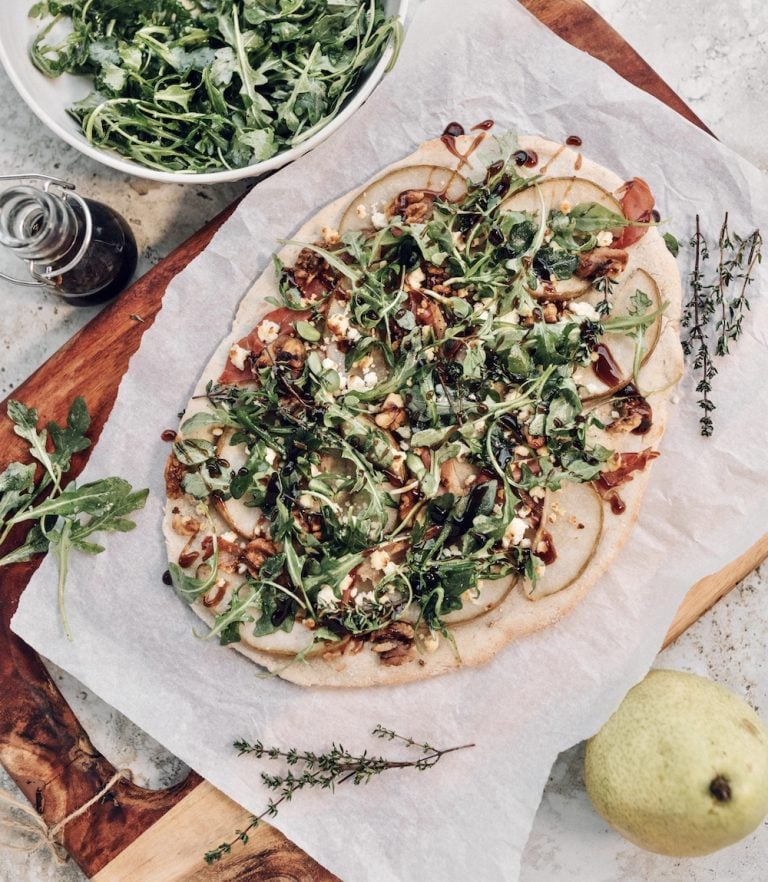 Taste tester
This flatbread convinced the entire crew at home. Read on for some major takeaways:
Megan (my sister):
First impression: It had a very sweet and unique taste, not like a normal tomato sauce that one would expect. This tasted more like a sweet and salty flatbread. The combinations of different flavors complemented each other well.

Outstanding Ingredients: The balsamic glaze was the best part, paired with the nutty walnut flavor and the heartiness / saltyness of the goat cheese.

The rating: 5 out of 5. This flatbread was really, really good. The only thing I would change is maybe add another salty note next time.
Noble (my brother):
First impression: I was genuinely surprised that I liked this one. My sisters tend to make pizza too "healthy" but this one was a winner.

Outstanding Ingredients: The walnuts were surprisingly one of my favorite parts. Every pizza needs something crispy.

The rating: 4 out of 5. I'm a sauce type so next time I would love to see pesto or sub in a melting cheese.
I hope you enjoy this flatbread as much as we do! Keep scrolling for the recipe and let us know what you think in the comments.