With the implementation of Spirit Airlines new loyalty program On January 21 of this year, this low-cost airline's loyalty became even more rewarding. Award flights start at just 2,500 points and not just to less popular destinations.
When you're ready to redeem points and take advantage of the new program, how can you keep increasing your Free Spirit Points? We searched the spirit.com booking calendar to find several sweet spots for redeeming points Spirit Airlines Flights.
Spirit Airlines award sweet spots
Dallas to Cancun, Mexico
Treat yourself to a little fun in the sun; For just 2,500 points, you can travel from the sprawling metropolis of Dallas to Cancun Beach. Not all award flights are this affordable, but depending on the time of year, you can expect to find some of these affordable award fares.
Added bonus: many of these flights are non-stop so you can work on your tan without stopping. If you are not in the Dallas area, you can even consider connecting non-spirit flights to Dallas-Fort Worth and then use your Free Spirit points to get to Cancun.
Fort Lauderdale, Florida, to San Juan, Puerto Rico
Surfing, beaches, oceanfront properties, and colorful culture; Everything is at your fingertips in San Juan for fewer points than you might think. Again, availability of the cheapest award flights can vary by season, but non-stop fares from Fort Lauderdale to Puerto Rico for just 2,500 Free Spirit points are solid business.
If you are in the Fort Lauderdale / Miami area, this is an inexpensive flight for a change of scene.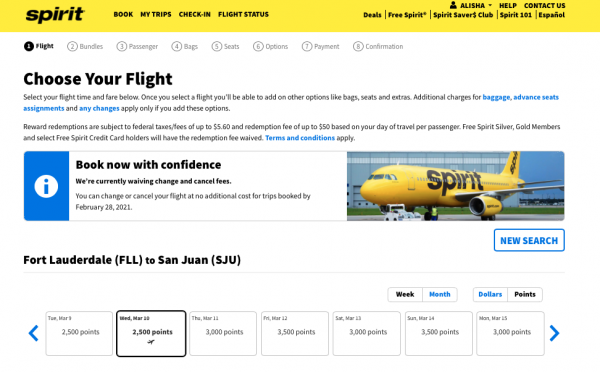 Boston to Las Vegas
For a flight that crosses almost the entire American continent, it can't be much better than a flight from Boston to Las Vegas for 2,500-4,000 Free Spirit points. You may need to be flexible to find such a good rate of rewards during more popular travel times, but they aren't hard to find and many are even non-stop. This is a great option for anyone in the New England area accessible by car from Boston Airport.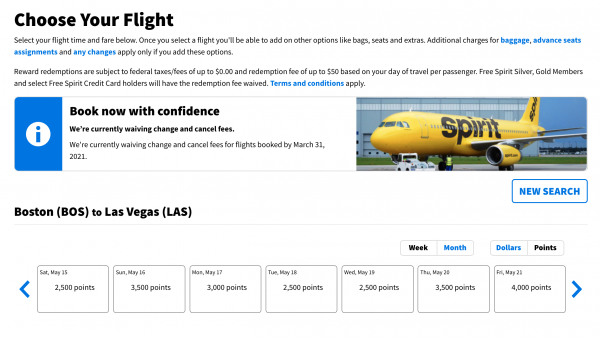 New York City to Guayaquil, Ecuador
Would you like to visit Ecuador and maybe visit the Galapagos Islands? You can with Spirit Airlines – and you can with points.
While you need to carefully select your travel dates using spirit.com's booking calendar (some flights require more than 10,000 points), you can earn one-way trips for just 2,500 points. While this sweet spot is specifically outside of New York-LaGuardia, it's a great option for anyone in the Tri-State.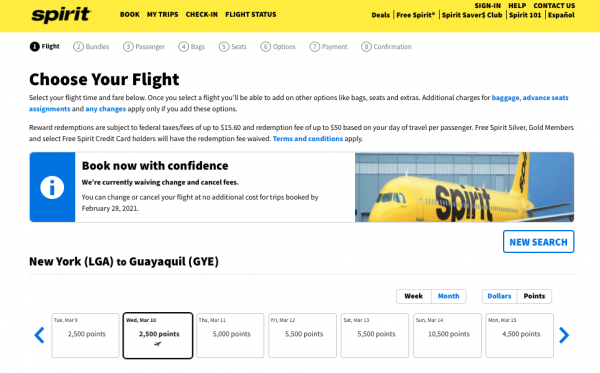 Atlantic City, New Jersey to Orlando, Florida
Are you looking for a sunny escape or the chance to sit down at a blackjack table? Swap poker chips for theme parks (or vice versa) and do so for fewer points. From just 2,500 Free Spirit Points, you can book a direct one-way award flight between Atlantic City and Orlando and live the way you want.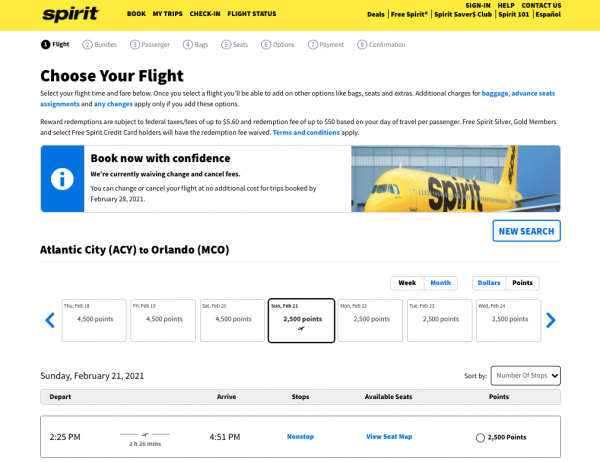 Redeeming Spirit Points
After you have earned Some free spirit points and you're ready to redeem them. There are many ways to do this. The best way to find the lowest award rates is to search using Spirit's online rate calendar, which will show you the lowest available award rates for each destination over a period of time. To see if you're getting a good deal, use the Monthly View to take stock of the fluctuations in award prices from day to day, week to week, and even season to season.
One-way award fares start at 2,500, but if you don't have enough, you don't have to sweat. Simply use the airline's new point pooling feature available to Spirit credit card holders (the Free Spirit® Travel Mastercard® or the Free Spirit® Travel More Mastercard®) and Silver and Gold Elite Status Members. With this program, you and up to eight friends and family members can collect Free Spirit points and earn an award flight faster.
From March you can also pay with points plus cash if you do not have enough points for your flight.
Nerd tip: When looking for the best prices on award flights, keep in mind that Spirit hubs – including Atlantic City, Baltimore, Chicago-O'Hare, Dallas-Fort Worth, Detroit, Fort Lauderdale, Las Vegas, and Orlando – are likely to offer The most direct flights and even more award sweet spots.
The final result
If you're planning on using points to book Spirit Airlines flights this year, there are plenty of great deals out there. Whether you are looking for nightlife, fun and games, beaches or family activities, with so many direct flights to destinations in the US and beyond, you are sure to find a flight that fits at a very affordable award price.
And while you won't find as many amenities traveling with this low-cost airline, the rock-bottom rewards more than make up for the prices.
How to Maximize Your Rewards
You want a travel credit card that prioritizes what's important to you. Here are our tips for that best travel credit cards of 2021including the best for: