Cultural renovation
We hear a lot about the change in culture. And the successful ones are renovating rather than rebuilding culture. Kevin Oakes advocates this mindset in Renewing Culture: 18 Leadership Actions to Build an Unshakable Business
Companies that effectively changed their cultures succeeded because they renovated what they had, not starting from scratch and rebuilding or transforming it from scratch.
In addition, he notes that the best time to renovate your culture is when everything is in order.
Rarely do companies set out to change their culture when everything is calm and running smoothly, when this is probably the best time to do so.
Noting that culture renewal begins at the top, he reiterates the appointment of Satya Nadella as Microsoft CEO after Steve Balmer in 2014. Microsoft's cultural change began on day one. The most important change was the introduction of a growth philosophy.
Microsoft's culture had been rigid. Every employee had to prove to everyone that he or she was the smartest person in the room. Accountability – delivering on time and making numbers – topped it all. The meetings were formal. If a senior executive wanted to harness the energy and creativity of someone in the organization, he or she had to invite that person's boss, and so on. Hierarchy and pecking order had taken control, and spontaneity and creativity had suffered. The culture change I wanted was actually rooted in Microsoft, which I originally joined. The culture change I wanted was focused on developing a philosophy of growth every day.
The turnaround at Microsoft was remarkable and started at the top.
Oakes provides an 18-step blueprint for cultural change that is evenly divided into three categories: plan, create, and manage.
TO PLAN
Step 1: Develop and deploy a comprehensive listening strategy. "Before an organization tackles a cultural renovation, it must first understand how the current culture is perceived. Too often, the senior national team assume that they know what the culture is. Too often they are dead wrong. "
Step 2: find out what to keep. Know what remains and what works. Listening to employees (Step 1) is so important because "it not only sheds light on today's culture, but also helps determine the most positive and valuable aspects of historical corporate culture that are to be developed."
Step 3: determine your culture path. "In the spirit of renovation, the new direction should recognize and take into account past successes, but set up the organization to break new ground into an unknown future." A carefully prepared statement of purpose.
Step 4: Define the desired behavior. Once you have a short, pithy, and memorable statement of intent, what behaviors best support that statement?
Step 5: Identify Influencers, Energizers, and Blockers. Know the informal organization through an analysis of the organization network.
Step 6: determine how progress will be measured, monitored and reported. "Ultimately, the reason for a cultural renovation is that the organization can implement its go-forward strategy. As this change can sometimes take years, it is important to define in advance what the indicators for a successful renovation will look like and put in place mechanisms to monitor progress. "Oakes offers a number of common actions and methods.
TO BUILD
Step 7: Communicate clearly that change is coming. "To initiate a cultural renovation, the CEO must articulate the purpose of the organization (whether new, old, or refurbished), and that purpose must resonate with the employees."
Step 8: identify skeptics and unbelievers early on. This is the hardest step. "It's the people who are constantly saving energy and ultimately slowing down or destroying cultures. Ferret them out as early as possible in the renovation. "
Step 9: paint a vision for the future. The story is important. "73 percent of successful change efforts were based on stories." A vision of the future. Most Corporate Change Failure CEOs attack former leaders and focus their messages on the past.
Step 10: working together consciously. Strong internal collaboration is important to drive change. The group needs to understand why they are coming together and what they are doing. Collaboration can go too far as if "connectivity goes through the roof because everyone believes they need to be consulted when making decisions".
Step 11: create a co-creation mindset. "While almost all successful cultural change efforts start from the top down, it is important to also attract workforce buy-in by creating a bottom-up (and middle-out) contribution mechanism." Consider a culture hackathon. Ford "hosted a two-day event where employees worked in randomly selected teams to come up with ideas to either strengthen elements of the culture they loved or to fix elements that did not serve the company well – #hackFORDculture.
Step 12: Training on the desired behaviors. Train managers at all levels according to the desired behaviors so that they can model them. "While leaders as teachers are one of the most effective ways to reinforce behaviors, it is clear that successful culture change depends on extensive leadership training across the organization."
CARE FOR
Step 13: onboarding through relationships and red tape. "If you want to keep that culture renovation you've worked so hard to make, the first thing you can do is improve your onboarding process." The most overlooked aspect of onboarding: "Helping the new hire build a network of trusted subject matter experts leading to the job Contribute to that person's success. "
Step 14: Promote Those Who Best Represent the New. Behaviors that support the renovated culture should be rewarded. Present the "career advancement of those who best represent the new".
Step 15: Change Performance Management Practices. Most important is the "frequency and usefulness of feedback, which clearly defines the business purpose of the performance process and aligns it with the culture and values ​​of the company".
Step 16: Use Employee Affinity Groups. Interestingly, their research found that two-thirds of companies felt that employee resource groups "are more effective than other leadership development forums" at developing leadership skills and competencies. A key benefit of the ERG is "to raise awareness of the different types of people that make up the workforce of most organizations".
Step 17: Increase the Focus on Talent Mobility "During a culture renovation, one of the most successful talent initiatives an organization can focus on is switching talent to strengthen the pack and ensure the desired behaviors are displayed across the organization."
Step 18: don't underestimate the value of external sentiment. Use external feedback from places like Glassdoor, LinkedIn, and social media to monitor the progress of your culture renewal efforts.
Cultural renovation is less theory and more how to. You will find case studies and interviews with the participants in a successful culture change.
* * *



Like us on Instagram and Facebook for additional ideas on leadership and personal development. * * *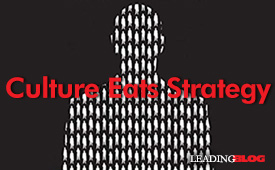 Posted by Michael McKinney at 7:35 am

Permalink | Comments (0) | This post is about change, personnel, management