Leadership U: The six degrees of leadership
Getting people from one place to another during good and challenging times requires a framework, as presented in Gary Burnison's succinct book Leadership U: Accelerating Through the Crisis Curve by Korn Ferry.
The framework is called The Six Degrees of Leadership. These six degrees are mastered separately, but work together in practice.
Grade 1: anticipating

To foresee, you need to see what lies ahead based on where you are today. There are four qualifiers that you must have. "Without addressing each individual, you cannot predict invisible roadblocks or know when and how to brake and then accelerate out of the crisis curve." They are: embrace humility, be self aware, avoid complacency, and know that others see you as a function. (By function, he means that people will see your title and not tell you what to hear.)
The anticipation is 90% from the bottom up and only 10% from the top down. To anticipate this, you need to make the hierarchy invisible. Take a complete inventory of the entire company as you listen to what people think, feel, fear, and experience.
Burnison says, regardless of the climate, the question is always: "What does this mean for the future?"
Grade 2: Navigate

Navigating corrects the course in real time. Navigation and anticipation help to keep the organization on a constant level. Without losing sight of the ultimate goal, we need to focus on the present and make adjustments if necessary. "Navigating determines both direction and speed." Burnison says: "Plan a little, think a lot, always decide."
Impatience doesn't get the job done. It is more fearful than high achievement, which can override critical thinking. Anyone who's skidded on black ice can relate to it: your instinct is to step on the brakes and turn the wheel in the opposite direction. It is clear that one has to do the opposite – the opposite – to steer into the skid in order to regain control.
Grade 3: Communicate

Constantly connect with others through the power of storytelling. As a leader, remember that you are the message. It's not just what you say, it's how you say it. Especially in a crisis, people need to know the facts instead of relying on their imaginations.
If there is faith in what you say there will be faith in what you do. That starts with modeling a one-to-one say / do ratio. You do what you say and say what you mean. When you are seen as an authentic guide, people not only trust your words and actions, but also reflect what you say and do.
Grade 4: Listen

Managers need to listen and pay attention to what they don't want to hear. And that means that people at all levels can confidently say what they think. "Information, insights and marketing intelligence must bubble up in the air and not fall down."
What can often prevent people from providing honest feedback is a lack of perceived economic independence. Those above us control our resources. "Economic stability is the ultimate truth serum, and leaders need to recognize it."
As you listen, you need to distinguish between what is urgent and what is important. However, when a crisis hits, everything blurs as events and their effects keep changing. What is important often becomes urgent and what is urgent becomes critical. You have to delegate others to pursue a common purpose.
Grade 5: learning

Anticipation, navigation, communication and listening form the basis of what you learn. Learning flexibility means recognizing what you don't know. Find an accurate comparison to clarify your situation. "By using the 'unknown' of what you are currently seeing against the 'known' of previous crises, you gain perspective. They identify patterns to connect the dots. "A learning culture is based on curiosity. Do you feel uncomfortable?
The distance between your company and its competitors is not absolute. it is relative. If you want to transform your organization, you must grow your organization through learning.
Grade 6: lead

All degrees come together in the degree: lead. Meet people where they are first. "Recognizing fears must come first before the collective genius can" inflate "rather than just flow down information." Help people see victory. "If you can see more, you can be more.
In a world where so much has been reinvented, nobody has all the answers. This is no time for individual heroism. It's all about the team – and you need talented people around you. * * *



Like us on Instagram and Facebook for additional ideas on leadership and personal development. * * *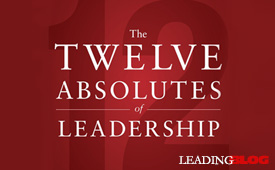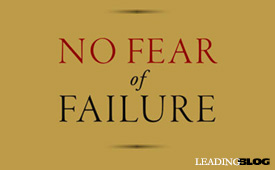 Posted by Michael McKinney at 7:46 AM

Permalink | Comments (0) | This post is about leadership, problem solving