At this point in their five- and eight-year life, I finally made it: my kids are picky eaters. As much as my pre-motherhood self believed that I would have the adventurous eaters who would love sushi by the age of two, the reality is that they would both prefer simple hamburgers with lots of ketchup. And you know what? It is another reminder that, as much as we believe we are in control of who our children become, we are, very much, their own people. We can lead them to kindness and expose them to various experiences, but we must also respect their natural passions, interests, and even dislikes. But despite my evolved approach to parenting (lol), I still come back to the question: what do you feed a picky eater for breakfast? Day after day after day …
For me, school morning breakfast has to be quick preparation (like taking less than five minutes) and healthy fuel to keep them feeling energized throughout the morning.
After years of struggling to find a healthy breakfast that my kids will actually enjoy, we finally settled on this tropical smoothie recipe that is full of people-friendly pineapples, strawberries and bananas. I slip into avocado for fiber and healthy fats, and ginger for a happy zing (and antioxidants).
Scroll on for some power smoothie tips and the story behind them …
1 of 4
Last summer, our dear friend and former nanny "Miss Cheryl" babysat the children a few mornings a week while Adam and I did our work from home. Phoebe came home two mornings in a row and raved about Miss C's smoothie. On the second day I asked her exactly what was in this magical smoothie, and she immediately rattled off: "Pineapple, strawberries, bananas (but only a little), avocado (and I usually don't even like avocado!) Ginger () MANY) and orange juice. Mom: DO NOT use milk. It has to be orange juice.)
Mmmkay…. So we did it ourselves the next morning and both kids drank it happily. I can't exaggerate the inner joy I felt when I saw them suck all these vitamins and minerals through their straws. It has been our tropical smoothie recipe for our home from then on, and luckily Adam and I love it as much as the kids do.
2 of 4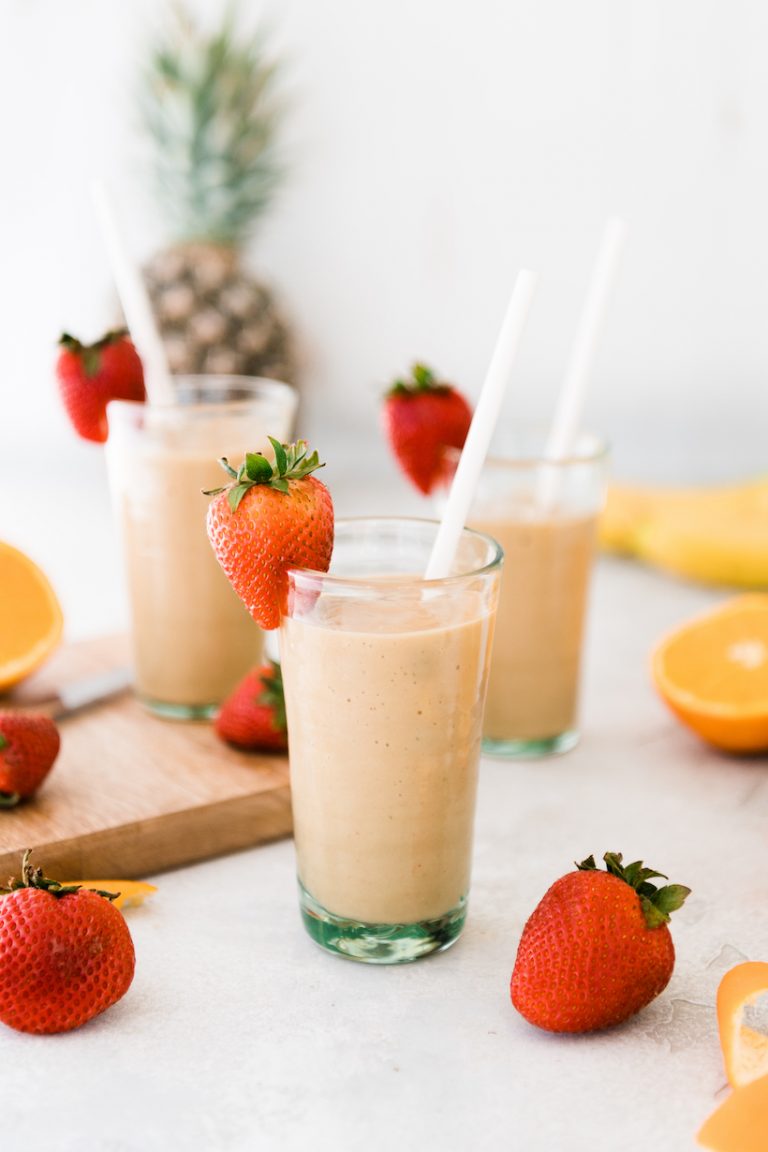 A few tips for the best smoothies:
For that thick milkshake consistency that you get at smoothie stores, use frozen fruits and vegetables whenever possible and add a handful of ice to make it even thicker.
A little honey goes a long way – we like our smoothies a little bit sweet.
Avocado offers a little richness and a more pudding-like consistency – play with more or less, depending on your personal preferences.
If you want to get ahead the night before, put all of your fruits, vegetables, and ice in the blender and place them in the freezer. In the morning just add orange juice and honey and mix!

3 of 4

An added benefit for this smoothie? It's dairy-free, nut-free, gluten-free, vegan … in fact, it works with almost all popular dietary restrictions, which is great for all families who juggle different allergies for different family members.

4 of 4

Be sure to check out our smoothie files for more AM recipes and I'd love to hear if you try this tropical smoothie recipe! Don't forget to rate, leave us a comment and tag us on Instagram.