Central theme for April 1, 2021
Common IDEAS have the power to broaden perspectives, change thinking and move lives. Here are two ideas for the curious to look into:
I.
Joseph T. Hallinan on how the tail starts wagging the dog when it comes to our perception of reality:
"Once we have an opinion about how something should be, that expectation often influences our perception of how the thing actually is. When we look, we look with a purpose – we are not looking at anything; we are looking for something. We tend to see what we expect to see and experience what we expect to experience. "
Source: Joking Ourselves: The Hidden Power of Self-Deception
II.
Paul Zak on how fear-based leadership undermines our goals and weighs us down:
"Science shows that fear-based management is a loss because people get used to fear quickly. Fear-inducing executives need to raise threats to be more productive, but the only threats that can be raised are those that can be raised.
"Fear is a good short-term motivator, but a bad long-term motivator. Worse than no effect when executives spit threats at work, it leads to learned helplessness, where people simply give up trying. "
Source: Trust Factor: The Science of Creating High Performance Enterprises
* * *
Look for these ideas on the Leading Blog every Thursday. Check out the LeadingThoughts index for more ideas.
* * *



Like us on Instagram and Facebook for additional ideas on leadership and personal development.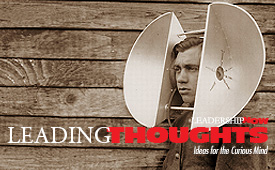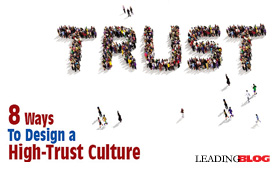 Posted by Michael McKinney at 12:08 am

Permalink | Comments (0) | This post is about guiding principles