Modern research confirms that diversity drives and correlates business success rather than scarcity – and a real estate company is pushing to make this a reality through its mentoring program. Here is how.
This series of articles is largely taken from How to Be a Anti-Racist Real Estate Pro, with the permission of the author.
I love pizza (although now I'm trying to get healthier toppings and crusts). But the problem is, if there's only one slice for two hungry adults, either someone will forego it, or both people will still be hungry sharing it (unless it's maybe a huge New York slice).
This is how some of us may see Diversity, Justice and Inclusion (DEI) – as a zero-sum game where there is only one slice of pizza that we either have to share (and neither of us leaves satisfied) or one of us leaves without enjoying (just one by one can be satisfied).
It's the 7-layer salad for me
But as much as I love pizza pies, there is a more comparable metaphor for DEI. I think DEI is more like a wonderfully layered cornucopia salad *. Just an ingredient or two in a salad can be terribly boring, although it can do the job of satisfying our hunger pangs.
But we can increase our feeling of fullness with more ingredients where a side salad can actually become a coveted starter. (Look at you aunt and your seven-layer salad. Y.on!)
DEI is the filling bowl for more satisfaction for everyone. Modern research confirms Diversity promotes and correlates with business success rather than scarcity. And a real estate company is pushing to make that happen through their mentoring program.
Last year Dream Town Realty started the mentoring program InspiRE in the face of the tragic murder of George Floyd (see what it did there with the "RE" to nod real estate?). The InspiRE mentoring program was conceived and developed by Yuval Degani, the founder and CEO of Dream Town Realty, and supports aspiring real estate professionals from under-represented communities.
Incidentally, 86 percent of realtors are white, although colored people gained access to the organization after decades of explicit exclusion and segregation during the civil rights movement of the 1960s.
DEI does not say "let's have a battle royal for a limited number of slots to become broker" as the pizza pie analogy would require. Instead, DEI says: "The more, the better! And because these underrepresented groups (there's only 14 percent BIPOC) may not have brokers around to help them learn the ropes, we're adding the salad ingredients to replace what's missing. "
In essence, there is no subtraction or division – there is multiplication. The approved mentees are paired with experienced RE brokers, and the mentees' fees for both pre-license training and the Illinois state exam are covered by the program. Someone pinches me because I have to dream. Oh wait, maybe that's why it's called Dream Town Realty.
Fair access and equal opportunities
April is a fair month for living. Given the anniversary of the entry into force of the original Fair Housing Act, which was created by the murder of Dr. Martin Luther King Jr. was raised on April 4, 1968, I remember Dr. King's words: "I have a dream that my four young children will one day live in a nation where they are judged not by the color of their skin but by the content of their characters. "
These words do not imply a search for a color blind society in which the inequalities caused by racism are ignored, minimized, silenced and rejected. That was a wrong interpretation and wrong application of this famous speech.
Instead, these words – as from the context of Dr. King's life emerges – a society in which all races, including those on the fringes, are given opportunity and access.
Dream Town Realty makes Dr. King's dream. Interested in how your company can do something similar, or maybe you should apply for this mentorship? Check out my chat with the Dream Town Realty InspiRE mentoring program team.
Who is who in the video:
Yuval Degani: Founder and CEO of Dream Town Realty

Claire Reinhart: Vice President for Administration and Human Resources

Kyle Barbour: Participant in the Dreami InspiRE Mentorship 2021 program cohort

Danny Torres and Milly Ortiz: Dream Towns InspiRE Mentoring 2020 Graduates of the Opening Class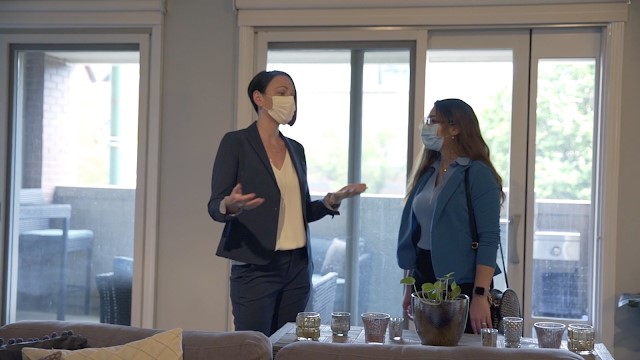 Program highlights
Dream Town Realty InspiRE's mentoring program is a six-week commitment for six to eight hours per week. Dream Town pays the state license exam fees, and the 15-hour pre-license course is offered by the Real Estate Institute.
Dream Town offers training for mentees and explains processes and important administrative functions. Mentees will accompany their mentor in all business functions – demonstrations, customer meetings, marketing meetings, and more. Mentees gain practical experience with tasks behind the scenes, e.g. B. entering new offers and creating marketing materials.
Applications for the Dream Town Realty InspiRE mentoring program are always open. Apply here.
Would you like an introduction to racing and real estate in the US for 2021? Download your free copy of my new book, How to Become a Anti-Racist Real Estate Professional, today.
* Note: After reading this draft, my mom just told me that she remembered watching an episode of the Oprah Winfrey Show with Jane Elliott (https://youtu.be/ebPoSMULI5U) in the 1990s. On that show, Jane Elliott pointed out the importance of using a salad analogy instead of a melting pot. I had no idea, but I think it's great that my mindset is in line with such a JEDI (Justice, Justice, Diversity and Inclusion) trailblazer.
Lee Davenport is a licensed real estate agent, trainer and coach. Follow her on YouTube or visit her website.