Bad bills are an unfortunate reality for many businesses. Although most customers enter into a business relationship where they intend to pay in full and on time, sometimes they may not be able to make their payments as promised. And sometimes they can't make any payment at all.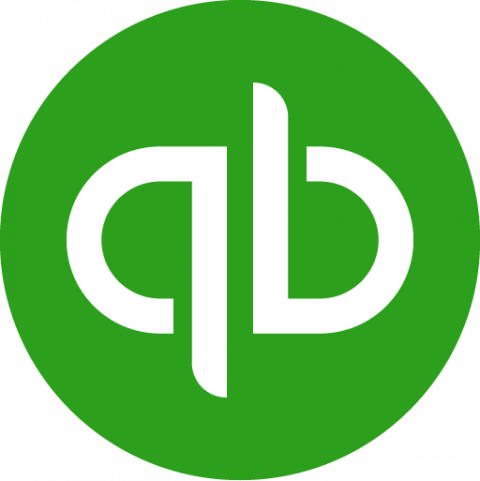 QuickBooks Online
The industry standard for accounting and other services.
In this case, the bad invoice must be written off. There are several ways you can remove bad invoices from your ledger books. This article describes the best ways to write off an invoice in QuickBooks.
Reasons to write off an invoice
There are several reasons you might want to write off an invoice in QuickBooks:
Bad debts. Sometimes a customer cannot pay an invoice due to financial circumstances beyond their control. Less often, a customer chooses not to pay for other reasons. Either way, it is important to see this standard on your books when a customer defaults on a payment by writing off the invoice.

Underpayment. Your customer may have made a payment on your invoice, but there is still a balance due. This is usually due to a typographical error on the part of the customer. In the case of underpayment, the amount is often too small – sometimes just a few cents – to reach the customer for the remainder of the payment.
You may think that the easiest way to write off an invoice in QuickBooks is to just delete the invoice. However, this is a mistake. Deleting the invoice instead of properly writing it off can have the following effects on your company's accounting:
You lose valuable information. If you write off an invoice for a customer due to bad debts, keep this information so that you do not resell on credit to that customer. If you delete the invoice, you will lose this information. You also need to know what percentage of your bills you are writing off. This is a valuable business metric that will help you manage your business more effectively and profitably.

You could overpay your sales tax obligations. Simply deleting an invoice in QuickBooks runs the risk of skewing your sales tax liability account. This could result in you transferring sales taxes that you never actually collected.

Items on the deleted invoice will be marked as not invoiced. When you delete an invoice in QuickBooks, all of the items on that invoice appear as not billed. If you continue to do business with the customer whose invoice you wrote off, these items will appear every time you try to invoice the customer, creating confusion and clutter in your books.
If you are a cash taxpayer
If you are a cash taxpayer, you technically have no claims from a tax perspective. However, when you bill customers, you run your business on at least a modified accrual basis, which means you need to manage accounts receivable.
» MORE: NerdWallets picks for the best accounting software
Some accountants and bookkeepers recommend that you simply clear the bad debt bills if you are a cash taxpayer. Others recommend that you issue a credit note on the same items that you used on the original invoice, rather than using a bad debt entry, which will have the effect of reducing your overall sales for those items. Either method can cause the same problems mentioned in the previous section.
Even if you are a cash taxpayer, it is important to properly write off your invoices to keep your QuickBooks file in good condition.
How to write off a bad debt statement in QuickBooks
The best way to write off an invoice in QuickBooks – whether you are using QuickBooks Desktop or QuickBooks Online – is used to use the credit function. When you use a credit memo with a bad debt item, your sales tax liability account stays pristine so you no longer have to worry about overpaying your sales tax liability.
1. Open the invoice you are copying. You should be referring to the invoice when doing the following steps. How to find the invoice:
on. In QuickBooks Desktop: Navigate to the customer center, enter the customer's name and click on the invoice from the list to open the invoice.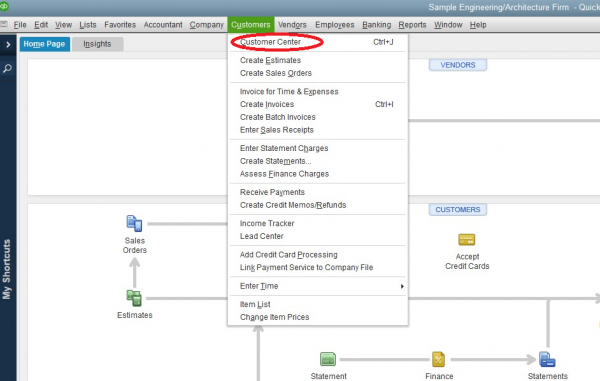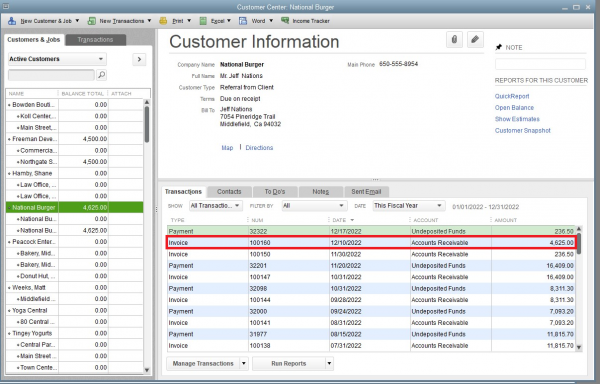 b. In QuickBooks Online: Click Sales, then click Customers, enter the customer's name, and click the invoice from the list to open the invoice.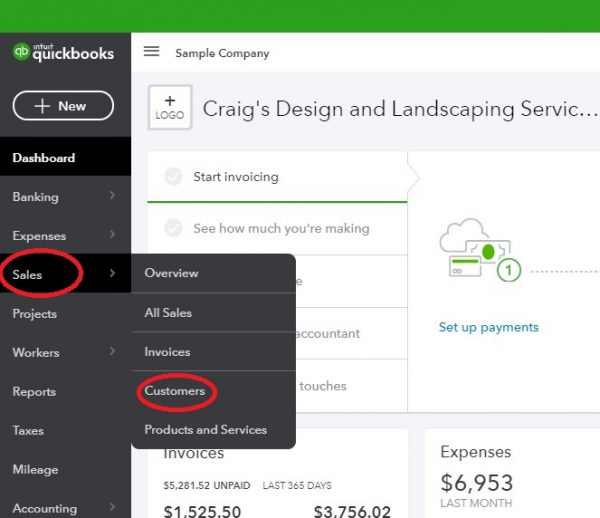 2. Create a new credit note. You can find the credit function on the Customers tab in QuickBooks Desktop. In QuickBooks Online, you first want to duplicate the browser tab by right-clicking on it. Then click the plus sign (+) on the new tab to create a new transaction and select "Credit Note" from the menu that appears.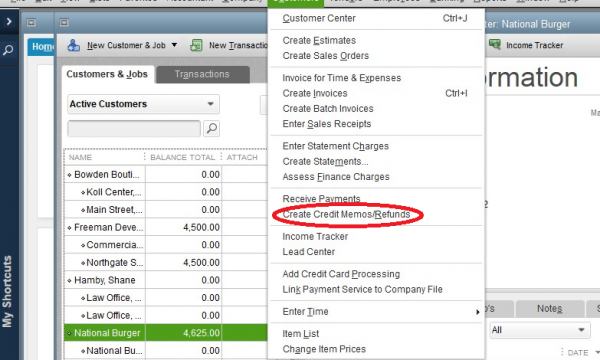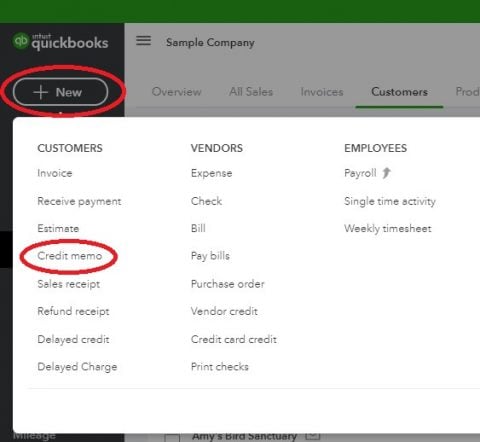 3. Enter the identification information for the credit note. Enter your client's name and the date you write off the bad debts. You will find that QuickBooks automatically enters a credit number. We recommend not to change this as this can lead to problems with your invoice and credit memo numbering later.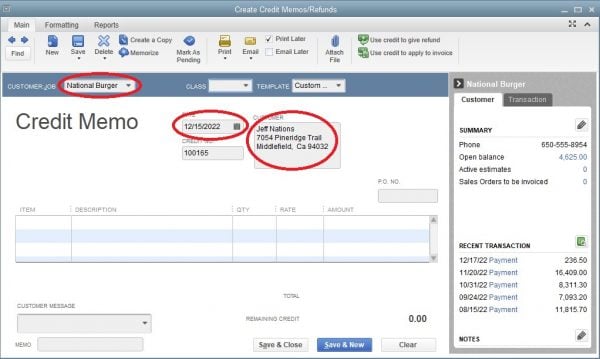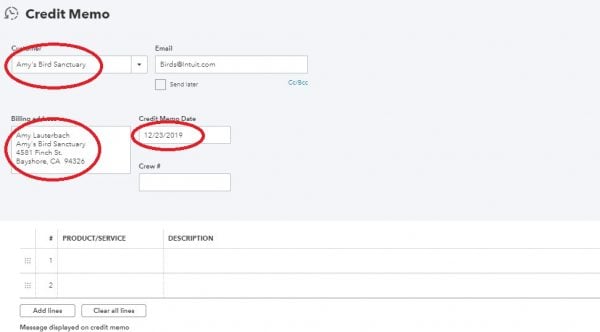 4. Create the bad debt entry. In both QuickBooks Desktop and QuickBooks Online, you can enter items on the fly. If you don't already have a bad debt expense item in your Item drop-down list, you'll want to create one.
on. In QuickBooks Desktop: Click in the Item field, then click Add New. Select "Other Fee" as the type from the drop-down box, then enter "Bad Debt" in the Item Name / Number field. For "Account" you want to select your bad debt account (if you don't have one, you can create one on the fly.)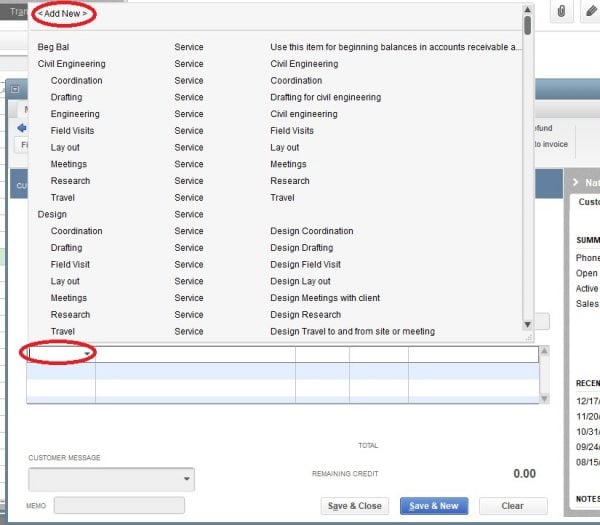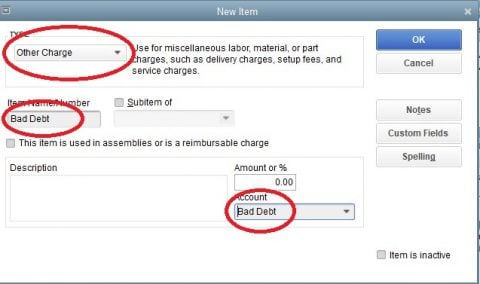 b. In QuickBooks Online: Click in the "Product / Service" field and then click on "Add new". You want to select the product type "Service". Name the item "Bad debt" and select your bad debt account for the income account type. As in QuickBooks Desktop, you can create this account on the fly. We recommend changing the VAT category to "Non-taxable". You can customize this for each individual credit.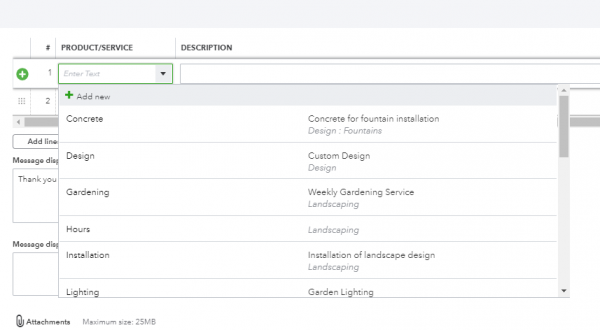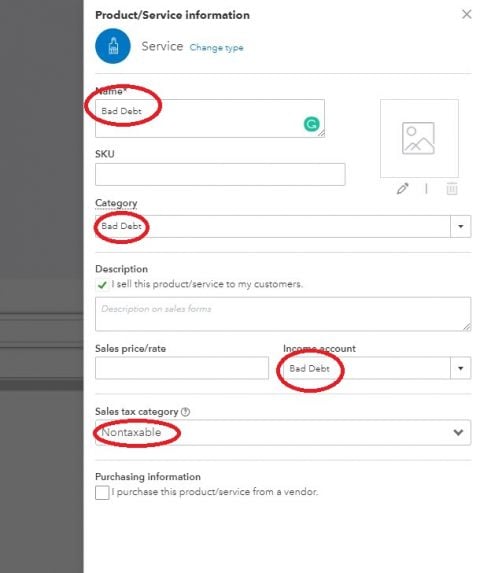 5. Fill out the credit note. In this step, you are basically duplicating the invoice you are copying on the credit memo screen. Instead of using the original product / service or item that you used in the invoice, use the bad debt item created in the previous step. Make sure to mark the items as "taxable" over time. You will know you got it right when your credit amount is equal to the amount that remains on the invoice you are writing off.
If the invoice you are copying off contains all taxable or non-taxable items, your credit will only need one line with the item "Bad debt". Enter the full pre-tax amount on the invoice you are copying on this line. Then, if the invoice was taxable, apply sales tax to the credit.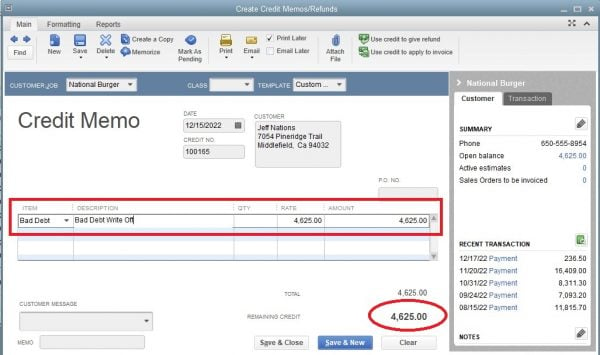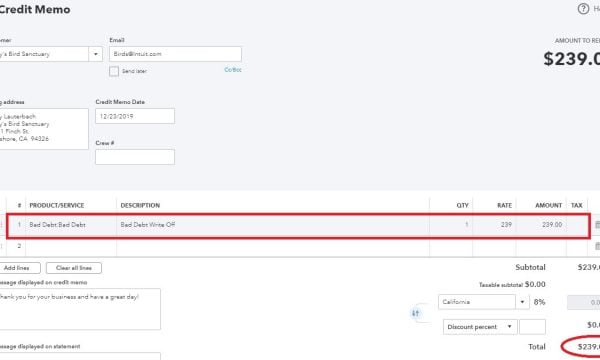 6. Apply the credit to the invoice. If you skip this step, your accounts receivable balance will still be correct, but the invoice for which you created the credit will still appear on your Open Invoice report.
on. In QuickBooks Desktop: At the top of the Credit Note window, click the Use Credit To Access Invoice option.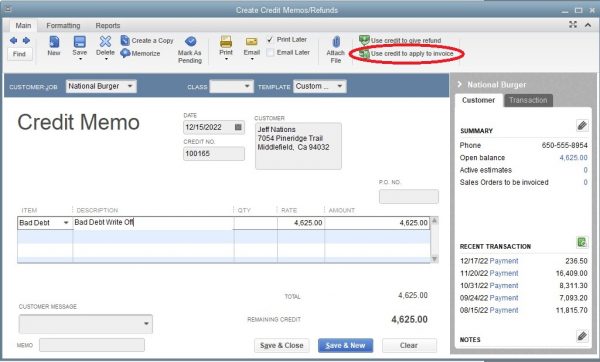 b. In QuickBooks Online: Click the invoice you are copying off, then click Receive Payment. On the next screen, you will have the option to choose the pending credit note as part of your payment. The amount of payment after the credit is applied should be $ 0. This results in a $ 0 transaction in your check register that you can clear the next time your bank account is reconciled.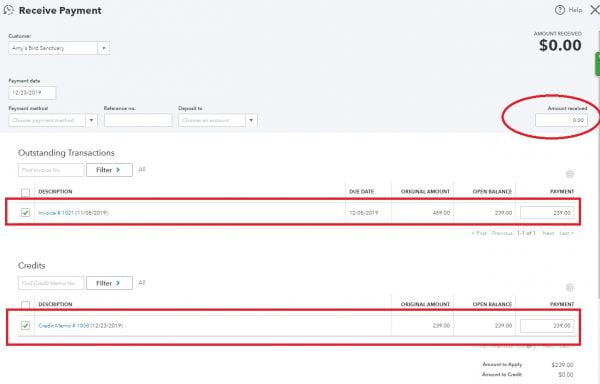 The problem of overvalued income
When you write off an invoice in the manner described above, the invoice will show as "Paid" after the credit has been applied to it. This means that your income will increase by the amount invoiced on your cash-based income statement. However, there will also be a counter balance on the bad debt expense account, which means the impact on your net income will be $ 0.
In most states, this is good enough to ensure that you are not paying more income tax than necessary. However, if you live in a state with gross income tax, you need to make sure your accountant deducts the bad debt amount from your total income before filing your tax return. Otherwise, you will pay taxes on money that you never raised.
If you are writing off the remaining balance on an invoice that has mostly been paid, follow the steps above. You can use an expense account other than bad debt expenses for this purpose. However, doing so can overload your chart of accounts and is not required since small amount write-offs are rare and typically don't make up a large dollar amount over the course of the year.
Depreciation: The right way to record bad debts
There are a number of ways you can remove bad debts and other bad amounts from your accounting records. While it's more cumbersome than just clearing the invoice or issuing a credit memo to cancel the invoice, the method outlined in this article will help you keep your records intact from a management perspective. This means you can use your financial statements to run your business more effectively, while also providing your tax advisor with the information they need to file your tax return quickly and accurately.
A version of this article was first published on Fundera, a subsidiary of NerdWallet.