Maybe it's the time of year, but lately I've been romanticizing everyday life. How can I turn those little moments that might otherwise feel a bit banal into something special?
I've made it my business to drink my Matcha in the afternoon in the driveway under sunshine, just put on lipstick and indulge in the good chocolate that I always have in my supply, but always save for another day.
To make moments special, I've also turned to my morning coffee as an occasional area. In all honesty, most mornings I rolled straight from bed to my high desk, which is currently sitting on my parents' dining table, drinking my iced coffee from a mug during my first meeting of the day. I know glamorous.
And recently someone on my team mentioned that we should take time for ourselves. While we're all busy trying to make it through our to-do list for the day, it's okay to take your time here and there. Most of the time I just smiled and agreed, because who wouldn't? But this time, I've actually implemented the advice, and I want to tell you that taking a moment and getting back to your to-do list makes a huge difference.
So come on in, my new biscotti and coffee routine.
1 of 3
Okay, yeah, I'll admit, I think a chocolate biscotti with my coffee feels a little indulgent. But, you know what? It was the best indulgence in the whole world and gave me so much pleasure in the few mornings of the week that I will treat myself. I fill my cup of coffee, grab a crispy biscotti and sit in the yard (yes, I mean, actually sit down on the grass) and enjoy my morning moment of calm while the sun is a little higher in the sky.
While I enjoy these cookies in the morning, my dad loves them for an evening treat after dinner. See? Something for everyone!
So here's the deal with these – I didn't want anything overly crispy that would crack my teeth, nor did I want something super cute. Tinker with the ingredients a little and that's the combination we've come to love.
Obviously, dark chocolate is the way to go to use a good cocoa powder. I love this Diaspora Co. product for its beautiful cocoa flavor (it really makes a difference!). And at least in our house, chocolate and orange are best friends. I like the slightly bitter and citrus taste that the bowl adds here, which adds extra depth to the biscuit without adding sweetness to it. The hazelnuts add a nice crunch and who doesn't love a double chocolate dip?
2 of 3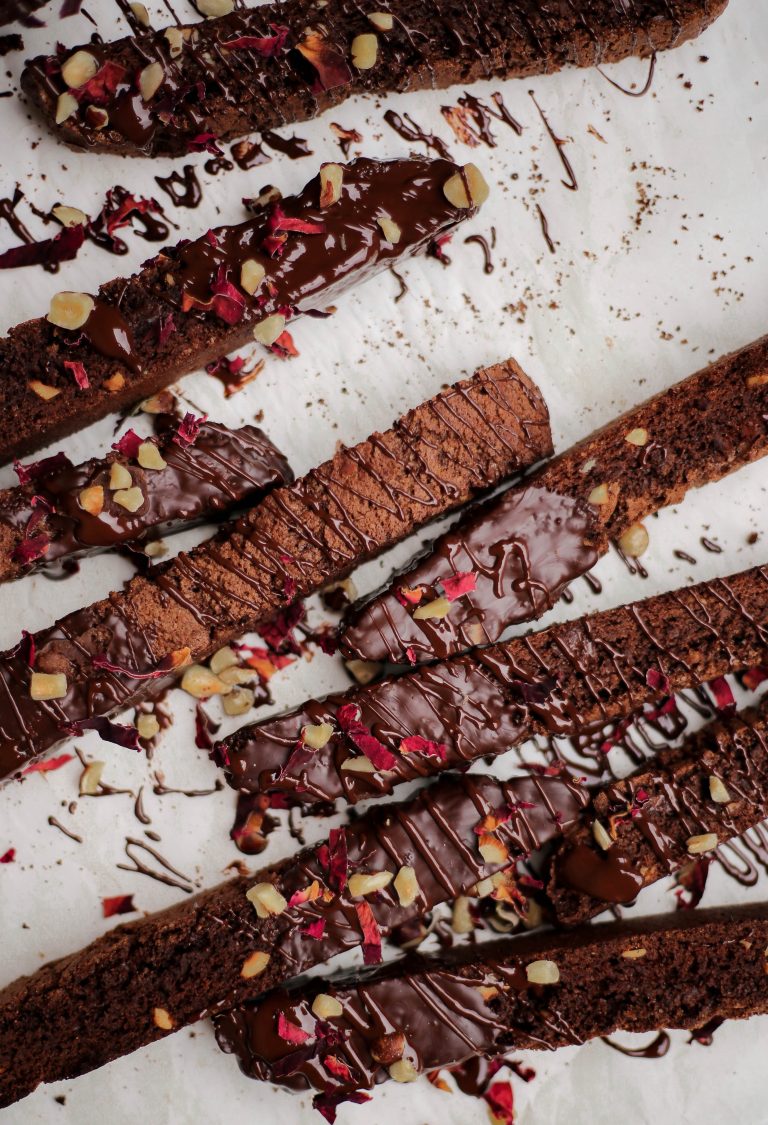 These are actually very easy to do! Bring the dough together, shape into a block and bake. You will find that the batter has spread out quite a bit in the oven, but I like long biscotti so this worked perfectly for what I wanted. Cut the cooled dough into slices, bake again and then decorate. These guys are almost brownie-like in quality, and they might even find a place in future cookie jars I make.
Of course, you can play around with mix-ins if you'd like. Maybe throw in a few almonds, maybe pistachios? White chocolate would be wonderful here too. The possibilities are endless!
3 of 3